Main content starts here, tab to start navigating
ON SUNDAYS, WE BRUNCH! 🍾

Join us at Palm Beach Gardens' favorite new Sunday Brunch - 𝐃𝐨𝐬𝐚𝐬 & 𝐌𝐢𝐦𝐨𝐬𝐚𝐬 - this Sunday from 11 a.m. - 3 p.m.
Reservations are strongly recommended and can be placed on OpenTable or stagepga.com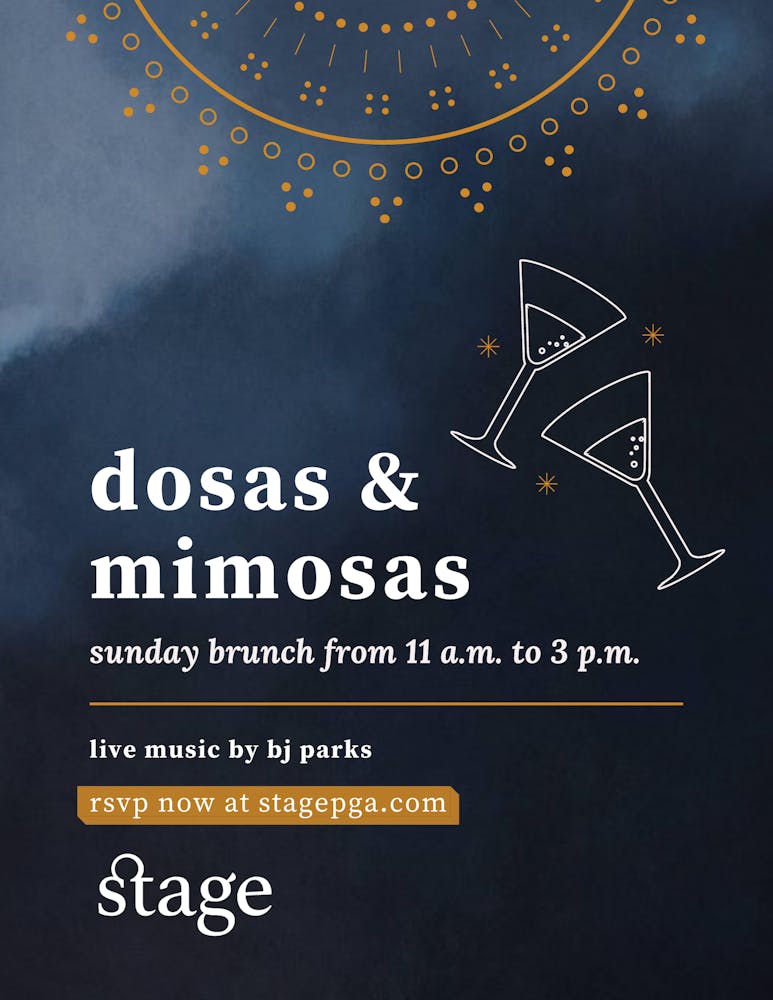 Our new weekly Sunday Brunch will feature an abundance of flavor-forward menu items that are interwoven in tradition, utilizing fresh and local ingredients that come together in vital, new, and flavorful ways.

Brunch menu highlights include: "Our Chicken & Waffles"; Caramel Apple French Toast with Oat Streusel; and Coconut Sticky Bun with Lime Cream Cheese. Egg dishes include an English Breakfast Plate, Eggs Benedict — crab, avocado, turmeric hollandaise, and kale saag (vegetarian option), turmeric hollandaise, and the Chicken Kathi Roll –tandoori chicken wrapped with paratha, scrambled eggs, and mint chutney. Guests seeking a heartier option can order Steak, Egg & Frites. Other standout dishes include Oysters — turmeric, truffle-yuzu mignonette; Bang Bang Cauliflower —mushrooms, paneer, mint, cilantro; Shrimp & Grouper Fried Rice — Benton's bacon, "our kimchi", peas, sesame oil, fried egg; Stage Burger — aged cheddar, caramelized onions, sunflower sprouts, "Aioli sourdough bun"; and a local favorite, Spicy Fried Chicken Sandwich.

Bootleg Greg Cocktail Co. will be on tap, curating a selection of brunch libations such as the Kimchi Bloody Mary — home-made Bloody Mary, house kimchi; Iced-out Mimosa & Bellini — sparkling wine with peach and orange ice cubes; and Mulling on Sunday Morning — Soto sake, Fever Tree ginger beer. A selection of champagne, rosé, natural wines, fresh juices, and turmeric shots will also be available.

RSVP